Commissioners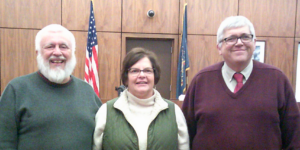 Mailing Address: P.O. Box 37, New Bloomfield PA 17068
Physical Address:  25 West Main Street, New Bloomfield, PA 17068
Phone: (717) 582-2131
Fax: (717) 582-5162
Commissioner Brian S. Allen (right), Chairman, was elected and began serving on the Board of Perry County Commissioners on January 6, 2020. He resides in Tuscarora Township with his wife of 27 years, Susan. Commissioner Allen has 4 children and 2 grandchildren and has owned and operated several business including growing up in the family grocery stores. He is a former Township Commissioner and Township Supervisor and has been involved in local government for over 30 years. He is proud to have served the community as a volunteer firefighter for 20 years. He is active in his bible church in various ways, including being a deacon. Commissioner Allen is also active coaching youth shooting sports and is an avid hunter and fisherman. He is dedicated to ensuring Perry County receives its fair share of respect and funding that the tax payers deserve and is committed to fostering an efficient county government. During 2020, Commissioner Allen will serve on the following boards or as liaison: Drug & Alcohol Commission liaison, Sheriff Department liaison, and Probation Department liaison.  Along with fellow Commissioners, they will serve together on the Election Board, Salary Board, and Retirement Board.
Commissioner Brenda L. Watson (center), Vice Chair, was elected and began serving on the Board of Perry County Commissioners on January 6th, 2020. Brenda comes to this Office with 32 years of owning and operating a local Surveying and Engineering Firm. She pledges to work as a team and do what it takes for the betterment of Perry County. She will serve on the following boards: SEDA COG-Susquehanna Economic Development Association-Council of Government, WIB-Workforce Investment Board, CREDC, PCEDC-Perry County Economic Development Corporation, PCEDA-Perry County Economic Development Authority, PCPC-Perry County Planning Commission, Tri-County Regional Planning Commission, MH/IDD; Family Center; Children and Youth; Transportation; Housing Authority; Emergency Management; Area Agency on Aging; Soil Conservation and H.A.T.S. Coordinating and Technical Committee . Along with fellow Commissioners they will serve together on the Election Board, Prison Board, Salary Board, Retirement Board, and Board of Assessment Appeals.
Commissioner Larry F. Reisinger (Left), Secretary, was sworn in as Perry County's interim Commissioner on February 3, 2023, filling the seat left vacant by the resent resignation of Commissioner Gary Eby.  Commissioner Reisinger is a life long resident of Perry County and lives in Tuscarora Township.   He is a graduate of Newport High School, earned a bachelor of science degree in accounting from Elizabethtown College and pursued a master of business administration from Shippensburg University.  He worked at AMP Inc. for 30 years, and then at NTM Inc. in Newport as the Chief Financial Officer, before retiring in 2016.  He has been active in the Perry County community all his life.   He currently is and has been a Director of the Perry County Fair Association for nearly 50 years, and has been the Treasurer for over 40 years.    In addition to being active in his local Methodist Church, he is also currently President of Ickesburg Lions Club and had served as Lions District 14-T Treasurer for 12 years.  He has been Perry County's representative on the board of directors for SEDA-COG (Susquehanna Economic Development Authority – Council of Government) for 20 + years and will continue to serve on the Board as the Commissioner representative.   He is a member of the Perry County Agency on Aging Advisory Council and represents Perry County on the Pennsylvania Department of Aging Advisory Council.  Along with his fellow Commissioners he will serve on the Election Board, Prison Board, Salary Board, and the Retirement Board.