Perry County Health Coalition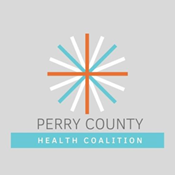 Improving Access to Health Services for the People of Perry County
Who We Are
The Perry County Health Coalition is dedicated to improving access to and availability of health services in Perry County. Formed in 2013, we strive to build stronger relationships among health and human service partners serving Perry County and we host educational speakers to educate stakeholders on key issues.
The coalition is comprised of 30 organizational members. We are grateful for the leadership of the Perry County Commissioners in supporting our work, including Brenda Benner, who co-founded and chaired the coalition for six years. The coalition's dedicated consultant, Mr. Cliff Deardorff, serves as a facilitator and lead coordinator of our efforts.
What We Do
As an all-volunteer group of busy community leaders and health professionals, our steering committee is comprised of 10 members and we host two active task forces. The Primary Care Task Force is focused on ensuring access to medical and dental services. The Behavioral Health Task Force is exploring community outreach strategies and opportunities to integrate and co-locate behavioral health and primary care services.
Together, we seek to identify new health resources, inspire health improvements and align common interests among local health providers and stakeholders serving the residents of Perry County. Our targeted goals include the following:
Strengthen the coalition to ensure regular health planning between county officials, health professionals and human service leaders;
Expand and strengthen existing primary care services in Perry County by exploring new services, enhancing current services and advocating to increase hours of care at practices;
Expand access to dental services in Perry County by supporting existing providers and exploring innovative strategies to bring oral health services into new settings, such as public school districts;
Cultivate new behavioral health services and build community awareness about existing services;
Support efforts of existing health practices to recruit all levels of medical, dental and behavioral health professionals; and
Improve health literacy by sharing resources and educational materials with local residents and providers.
Key Accomplishments
Hamilton Health Center opened a satellite community health center in Newport, in June of 2018. The Hamilton Health Center of Perry County is dedicated to increasing residents' access to primary health care, dental and pediatric services and women's health care. The family friendly center is staffed by Perry County professionals who are passionate about health and proud to serve the local community. Two community health workers are a core part of Hamilton's staff team and provide patient referrals and outreach to a host of community-based services in the county. The coalition is also working closely with Sadler Health Center and West Perry School District to develop school-based health services in western Perry County.
The coalition is exploring community paramedicine strategies that will tap the expertise of EMS workers in Perry County to conduct home visits with patients. The coalition secured a state grant of $40,000 from the PA Department of Health, which was used by the Central Region's Emergency Health Services Federation and Temple University-Harrisburg to train EMS responders in Perry County. Participants gained community health worker skills, in support of women's health. A Perry County paramedicine pilot project is being planned with local EMS units and health care providers.
Ways to Get Involved
There are many ways to contribute to the work of the coalition. We are open to new ideas
and welcome your thoughts and questions.
Volunteer and community support are valuable to the coalition in these ways.
Coalition Outreach and Community Engagement: Are you familiar with new resources or services that may help to improve the health of residents in Perry County? Or do you know people who are in need of access to local health services? We value your personal outreach and referral suggestions to assist us in making these important connections. We envision a day when everyone has easy access to the health services they need and can afford.
Coalition Membership: The coalition regularly seeks new members. As a working coalition, all members are expected to attend quarterly coalition meetings and to serve actively on at least one task force. Community members and professionals who are passionate about improving health outcomes in Perry County are encouraged to inquire and apply.
Funding: The coalition welcomes donations and sponsorships. Your contributions will play a vital role in ensuring the success of the coalition's outreach, action planning, community events and public health education.
To learn more about these opportunities, contact:
Carol Thornton
forbetterhealthpa@gmail.com
717-960-9009 x 7
Coalition Members
American Heart Association

AmeriHealth Caritas

 

Capital Area Behavioral Health Collaborative

Capital Area Head Start

Capital Blue Cross

Community Volunteers

Cumberland-Perry MH/IDD Agency

     

Diakon Family Life Services

Dickinson College

HACC Dental Hygiene Program

Emergency Health Services Federation   

Hamilton Health Center

 Highmark Blue Shield

Gateway Health 

 

     

Greenwood School District

 Loysville Family Practice

     

Medicine Shoppe Pharmacy

New Visions

Newport School District

     

PA Health Access Network

Partnership for Better Health

    

 Pennian Bank

Penn State Health

     

PerformCare

Perry County Children & Youth

     

Perry County Literacy Council

 Perry Human Services

     

Sadler Health Center

State Health Nurse

     

Susquenita School District

United Way of the Capital Region

     

UPMC Pinnacle

West Perry School District