Veteran Affairs
Physical Address: 25 W. Main Street, New Bloomfield PA 17068
Telephone: 717-582-2131
Hours: Monday – Thursday 8:00 a.m. – 4:00 p.m.
"Due to limited staffing, APPOINTMENTS ARE NECESSARY".
Director: Jim Scott
Email: jscott@perryco.org
NOTICE:  New Veterans Crisis Line phone number.  Effective July 16, 2022 the Department of Veterans Affairs has made it more user friendly to access the Veterans Crisis Line.  Veterans have the option to Dial 988 then Press 1 to connect with caring, qualified responders for 24/7 crisis support.
Veterans Trout Derby – TRI-COUNTY,  Join us for a Great Day of Fishing Fun Hosted by the Marysville Sportsman Association on June 4, 2023.  Please click on the link below for more information.
https://perryco.org/wp-content/uploads/2023/05/Veterans-Fishing-Derby-2023.pdf
"Below are the Sponsors that make this Derby Possible, Thank you".  Click on the link below to see all of the sponsors.
https://perryco.org/wp-content/uploads/2023/05/Trout-Derby-Sponsors-2023.docx
**********
"Attention:  National Guard or Reserve."  If you are a parent being deployed, Milton S. Hershey School may be an option for your child(ren).  Click on the link below to see the flyer.
**********
Coronavirus Vaccines
Update 32:  New Law Allows All Vets, Spouses & Caregivers to Receive from VA
All veterans, their spouses and caregivers regardless of their VA health care enrollment status will be able to receive a coronavirus vaccine through the Department of Veterans Affairs once doses are made available under Saves Lives Act H.R.1276 signed into law by President Joe Biden on 24 MAR. Veterans Affairs leaders had supported the move, saying they did not want to turn away any veteran from receiving the shots if they were available. But under former rules, department medical centers were permitted to administer vaccines only to veterans already eligible for VA health care services, and for certain caregivers registered in VA support programs. That totals just under 7 million individuals.
Under the new bill, that number is expected to jump to more than 20 million. It would make vaccines eligible "to all veterans, veteran spouses, caregivers, and Civilian Health and Medical Program of the Department of Veterans Affairs (CHAMPVA) recipients to the extent that such vaccines are available." The measure also for the first time makes veterans living abroad and enrolled in VA's the Foreign Medical Program (FMA) eligible to receive the vaccine through department facilities. The legislation passed without objection in both the House and Senate. The SAVE LIVES Act increases the number of individuals who are eligible to get lifesaving COVID-19 vaccines from VA from 9.5 million to more than 33 million.
VA is providing COVID-19 vaccinations to Veterans and employees per its COVID-19 Vaccination Plan. As of 24 MAR, VA has fully vaccinated 1,594,812 individuals, including Veterans, VA employees and federal partners. The next steps in VA's prioritized expansion efforts are to offer the vaccine to all enrolled Veterans – approximately 9.5 million – followed by those outlined in the bill, as vaccine supply permits:
Non-enrolled Veterans as defined in the new legislation, including those without service-connected disabilities and who have incomes above VA's threshold.
Overseas Veterans who rely on the Foreign Medical Program.
Veteran caregivers who are enrolled in either the Program of Comprehensive Assistance for Family Caregivers or the Program of General Caregiver Support Services.
Veteran caregivers enrolled in certain Geriatrics and Extended Care Programs, such as Veteran Directed Care, Bowel and Bladder, Home Based Primary Care and VA's Medical Foster Home Program.
Civilian Health and Medical Programs of the Department of Veterans Affairs recipients.
Veteran spouses.
Interested Veterans, their caregivers and Veteran spouses who qualify under the legislation can go to https://www.va.gov/health-care/covid-19-vaccine to get more information about COVID-19 vaccines at VA. Updates will be provided regarding the availability of vaccine supply and other resources.
VA has been made aware of a company found to be misrepresenting services to Veterans and charging fees for assistance with VA benefits.
 The Louisiana Department of Justice announced VetAttend Professional Services, LLC and its owners, John Sutton and Marc Quiroz, are prohibited from operating any business related to preparing and submitting claims for Veterans' benefits without accreditation from VA; operating any business that provides home care services without a license from the State of Louisiana; and accessing Veterans' benefits or charging fees that are contingent on Veterans' receipts of benefits. Additionally, VetAttend is required to cancel all related contracts and payment authorizations currently in place with Veterans, claimants, or beneficiaries.
 Veterans, claimants, and beneficiaries who may be working with VetAttend are advised to contact VA to ensure VetAttend could not access their records. If an inquiry is received, PCRs must review the record for a POA and/or VAF 21-0845, Authorization to Disclose Personal Information to a Third Party, in reference to VetAttend. As needed, advise individuals how to change their POA and/or authorized third party of record and leave a note in the system documenting the inquiry.
  Office of Field Operations- NCC
Delays in Obtaining Military Documents may cause a delay in VA benefits
The government's primary repository for military personnel records, the National Personnel Records Center (NPRC), has been closed to the public since March 2020 due to the COVID-19 pandemic. Due to numerous COVID-19 exposures occurring with increasing frequency, the NPRC has shut down most of their remaining operations indefinitely. This decision negatively impacts the ability to obtain discharge, (DD 214's), medical and other personal documents.
This office will continue to make every attempt to assist Veterans and their families, but if a service member's records cannot be obtained through any source other than NPRC, a timely response will not be possible, thus delaying any VA benefits.
Don't wait until the need arises, it is very important that you as a veteran or family member, searc*********h for any and all military documents that may be in your possession. These documents may be the only documents available to verify eligibility for VA benefits.
The following may be a good source to also check:
Veteran Service Organizations (VSOs) such as the Veterans of Foreign Wars (VFW) or the American Legion. These organizations may have discharge documents on file for members.
County clerk of the county where the service member would have returned from service. The service member may have filed their documents with the county upon discharge from military service.
**********
Camp Lejeune:
Disability compensation VA recently proposed a rule to create presumptive service connection for Veterans, Reservists, and National Guard members exposed to contaminants in the water supply at Camp Lejeune from August 1, 1953 through December 31, 1987 who later developed one of the following eight diseases:
Adult leukemia
Aplastic anemia and other myelodysplastic syndromes
Bladder cancer
Kidney cancer
Liver cancer
Multiple myeloma
Non-Hodgkin's lymphoma
Parkinson's disease
Presently, these conditions are the only ones for which there is sufficient scientific and medical evidence to support the creation of presumptions; however, VA will continue to review relevant information as it becomes available. Veterans who are experiencing other health conditions that they think may be related to contaminated water at Camp Lejeune are encouraged to contact their primary care provider and to file a claim. VA reviews and decides disability compensation claims on a case-by-case basis. –
See more at: http://www.publichealth.va.gov/exposures/camp-lejeune/#sthash.ZA1frcoV.dpuf
**********
Camp New Hope
"Disabled Veterans and Families", enjoy the summer of 2023 by signing up for a five (5) day break-away retreat at the Pennsylvania Lions Beacon Lodge Camp, "Project New Hope."  Relax and enjoy 583 acres of scenic central Pennsylvania with all expenses paid. The property includes cabins that sleep seven (7), a wheel-chair accessible outdoor heated pool and numerous other accommodations for veterans and family members to enjoy. The below flyer details the event and includes a contact phone number or please contact the Perry County Veterans Affairs Office at 717-582-5133 to sign up. There are two separate dates veterans may sign-up for, June 17-21 or July 29 – August 2.
Flag Retirement Box Available!
The County of Perry now has flag retirement receptacle available in the lobby of the Veterans Memorial Building – 25 W. Main Street, New Bloomfield PA 17068.  Please feel free to bring in your American flag that is no longer a fitting emblem of display and it will be properly disposed of.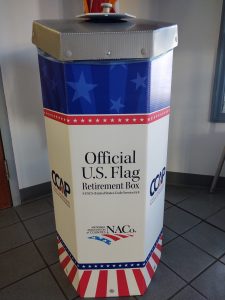 Documents & Forms

Veterans Needing Emergency Care:
If you are enrolled in the VA Medical Benefits and require Emergency Medical/Room treatment outside the VA, for VA to pay those medical costs, you must contact Lebanon VAMC within 48 hours and request payment through fee Basis. Failure to contact Lebanon VAMC within the 48 hours may be reason for a denial for payment by the VA of any of the costs for your treatment.

ATTENTION VETERANS!
Take your DD-214 to your Social Security appointment. Your Military Service may increase your monthly benefit.