Veteran Affairs
Physical Address: 25 W. Main Street, New Bloomfield PA 17068
Telephone: 717-582-2131
Hours: Monday – Thursday 8:00 a.m – 4:00 p.m. and by appointment
Director: Jim Scott
Email: jscott@perryco.org
Delays in Obtaining Military Documents may cause a delay in VA benefits
The government's primary repository for military personnel records, the National Personnel Records Center (NPRC), has been closed to the public since March 2020 due to the COVID-19 pandemic. Due to numerous COVID-19 exposures occurring with increasing frequency, the NPRC has shut down most of their remaining operations indefinitely. This decision negatively impacts the ability to obtain discharge, (DD 214's), medical and other personal documents.
This office will continue to make every attempt to assist Veterans and their families, but if a service member's records cannot be obtained through any source other than NPRC, a timely response will not be possible, thus delaying any VA benefits.
Don't wait until the need arises, it is very important that you as a veteran or family member, search for any and all military documents that may be in your possession. These documents may be the only documents available to verify eligibility for VA benefits.
The following may be a good source to also check:
Veteran Service Organizations (VSOs) such as the Veterans of Foreign Wars (VFW) or the American Legion. These organizations may have discharge documents on file for members.
County clerk of the county where the service member would have returned from service. The service member may have filed their documents with the county upon discharge from military service.
————————-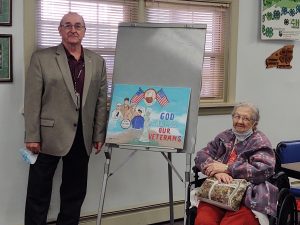 Local artist, Wanda Pines, presents VA Director, James Scott with an original oil painting (September 2020)
Women Veterans Retreat – 2021
March 26-28, 2021
Attention ALL Women Veterans in Pennsylvania!
Please join us for a weekend of fellowship, camaraderie, and informational workshops by, for, and about women veterans—and the issues that matter and impact them directly.
Preregistration is required; please see the VFW Dept. of PA Website for forms and the tentative agenda.
Final Registration is 2/20/21
Please click on Women Veterans Retreat Flyer and Women Veterans Retreat Registration Form under Documents on this page for more information.
Camp Lejeune:
Disability compensation VA recently proposed a rule to create presumptive service connection for Veterans, Reservists, and National Guard members exposed to contaminants in the water supply at Camp Lejeune from August 1, 1953 through December 31, 1987 who later developed one of the following eight diseases:
Adult leukemia
Aplastic anemia and other myelodysplastic syndromes
Bladder cancer
Kidney cancer
Liver cancer
Multiple myeloma
Non-Hodgkin's lymphoma
Parkinson's disease
Presently, these conditions are the only ones for which there is sufficient scientific and medical evidence to support the creation of presumptions; however, VA will continue to review relevant information as it becomes available. Veterans who are experiencing other health conditions that they think may be related to contaminated water at Camp Lejeune are encouraged to contact their primary care provider and to file a claim. VA reviews and decides disability compensation claims on a case-by-case basis. –
See more at: http://www.publichealth.va.gov/exposures/camp-lejeune/#sthash.ZA1frcoV.dpuf
FREE WEEKEND RETREAT "PROJECT NEW HOPE"
Pa Lions Beacon Lodge Camp, Newton Hamilton, Mifflin County, Pa is offering a 4 day retreat for disabled veterans and family, June 12-16, 2021 and July 3 – 7, 2021.
All individuals disabled due to injuries as a result of military service or suffering with PTSD related emotional issues are eligible and welcome to attend the retreats.
The goal is to fill all cabins with veterans and their immediate families on the above mentioned weekends and provide relaxation and fellowship with other veterans while at the camp. Much is offered to veterans and family members at Beacon Lodge – fishing, wheelchair accessible swimming pool, zip line, miniature golf and much more on the mostly wooded beautiful 583 acres.  Project New Hope brochures and Retreat Registration Applications can be obtained by contacting Beacon Lodge at 814- 542-2511, by email at office@beaconloddge.org or contacting the Perry County VA, 717-582-5133.
Documents & Forms

Veterans Needing Emergency Care:
If you are enrolled in the VA Medical Benefits and require Emergency Medical/Room treatment outside the VA, for VA to pay those medical costs, you must contact Lebanon VAMC within 48 hours and request payment through fee Basis. Failure to contact Lebanon VAMC within the 48 hours may be reason for a denial for payment by the VA of any of the costs for your treatment.

ATTENTION VETERANS!
Take your DD-214 to your Social Security appointment. Your Military Service may increase your monthly benefit.